The ultimate pandemic upcycle – putting a new computer in a vintage Apple chassis.
It's been a longtime dream to build a Hackintosh in an old Powermac G5 case.
Whether by rose-tinted nostalgia or the effects of advertising on the 6-year-old brain, the design of the G5 to me represents the pinnacle of conventional desktop computer construction. Even Apple must have loved it because they kept it in production for ten years, a lifetime for them.
When my college sent us home early because of the pandemic, I lost access to a high-powered desktop computer, one of the most vital components of my livelihood. So I knew I needed to build a new workstation. And while scouring Craigslist one day, I came upon two working-condition G5s for a song and thought, if not now, then when?
(Plus, with all the speculation in the air about ARM-based Macs, I knew that if this was gonna be one of the last Hackintoshes I ever built, I'd be kicking myself if I hadn't gone all out.)
I'd built 4 computers before, starting in 2012, but never a project like this, where the actual hardware needed modification. Dremels and soldering are not my forte, but I was joined on this adventure by my friend Russell, who's an expert with electronics. He'd never built a computer, so I helped pick out the parts for both of us.
Like a lot of people who do G5 mods, we used "ATX Low 120" kits from The Laser Hive, which were simple to work with and removed a lot of guesswork and extra labor from the project.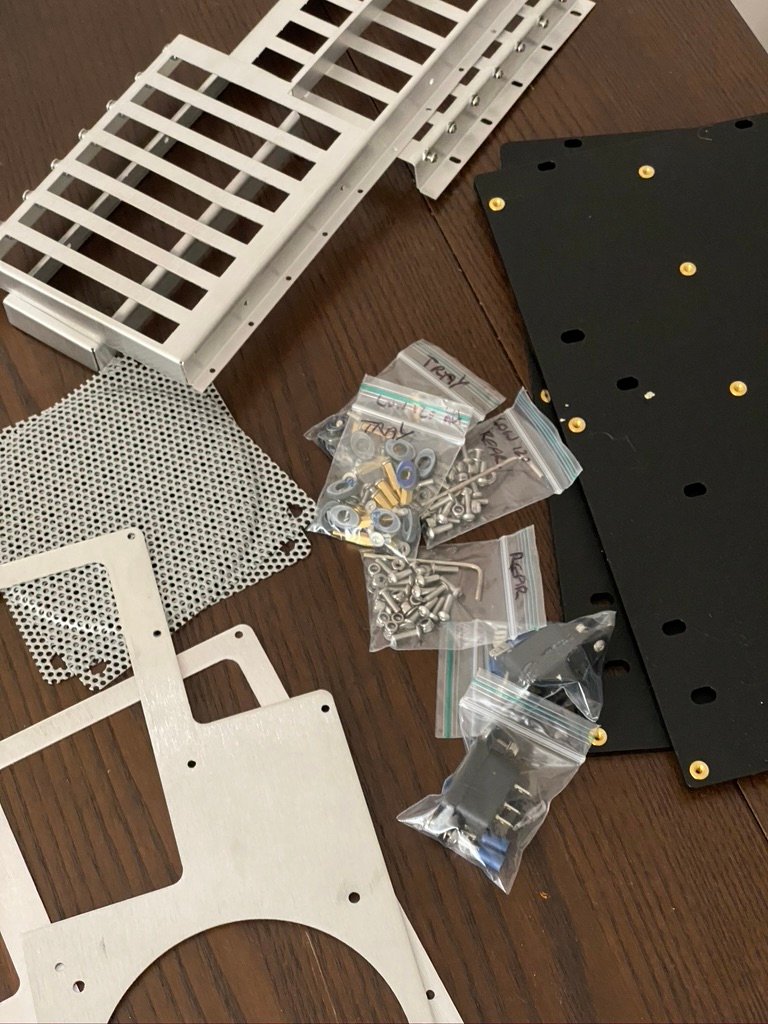 Parts
Russell
Miles
CPU
Intel Core i7-10700k
Intel Core i7-10700k
Cooler
Cooler Master Hyper 212 Black
Noctua NH-U12A
Motherboard
Gigabyte Z490 AORUS Elite AC
Gigabyte Z490 VISION D
Memory
G-Skill Aegis 32GB DDR4 3200
G-Skill Aegis 32GB DDR4 3200
GPU
NVIDIA GeForce RTX 2070 Super 8GB
Sapphire Radeon RX 5700 XT 8GB NITRO+
Storage
ADATA XPG SX8200 Pro 1TB (Windows)
Toshiba X300 6TB (Storage)
ADATA XPG SX8200 Pro 1TB (Mac)
Crucial P1 1TB (Windows)
Toshiba X300 6TB (Storage)
PSU
Corsair RMx 550W
Thermaltake GF1 650W
OS
Windows 10 Pro
macOS Catalina
Windows 10 Pro
Fans
Noctua NF-A12x15 (x2)
Noctua NF-R8 (x1)
Noctua NF-A12x15 (x2)
Noctua NF-R8 (x1)
Optical
Asus 24x DVD-RW
Asus 24x DVD-RW


First, we stripped the G5s of all their components, leaving just the bare cases.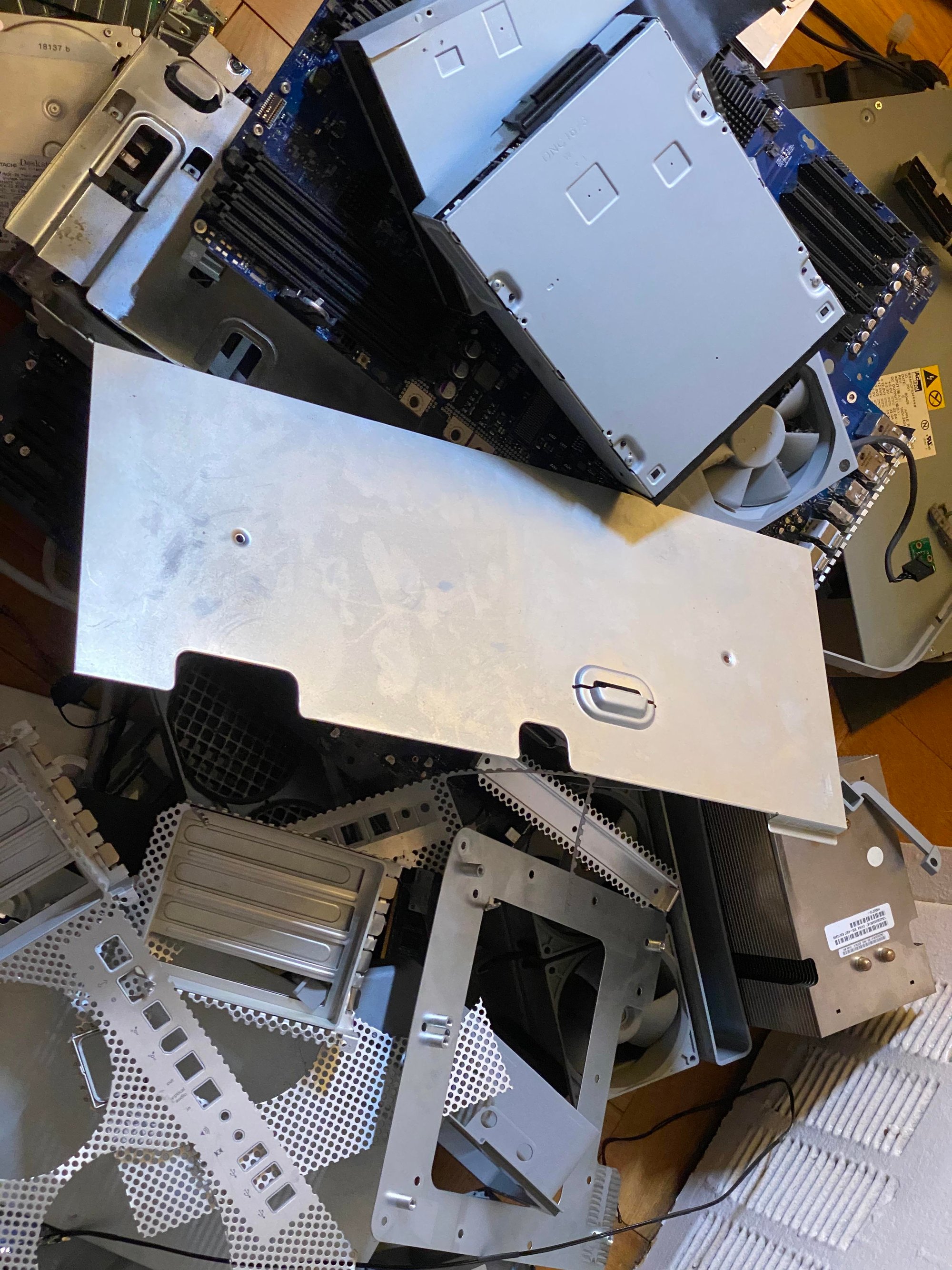 Next we cut out the backs of the cases to accommodate our new backplates and I/O shield. We went through an insane amount of cutting wheels grinding down the aluminum.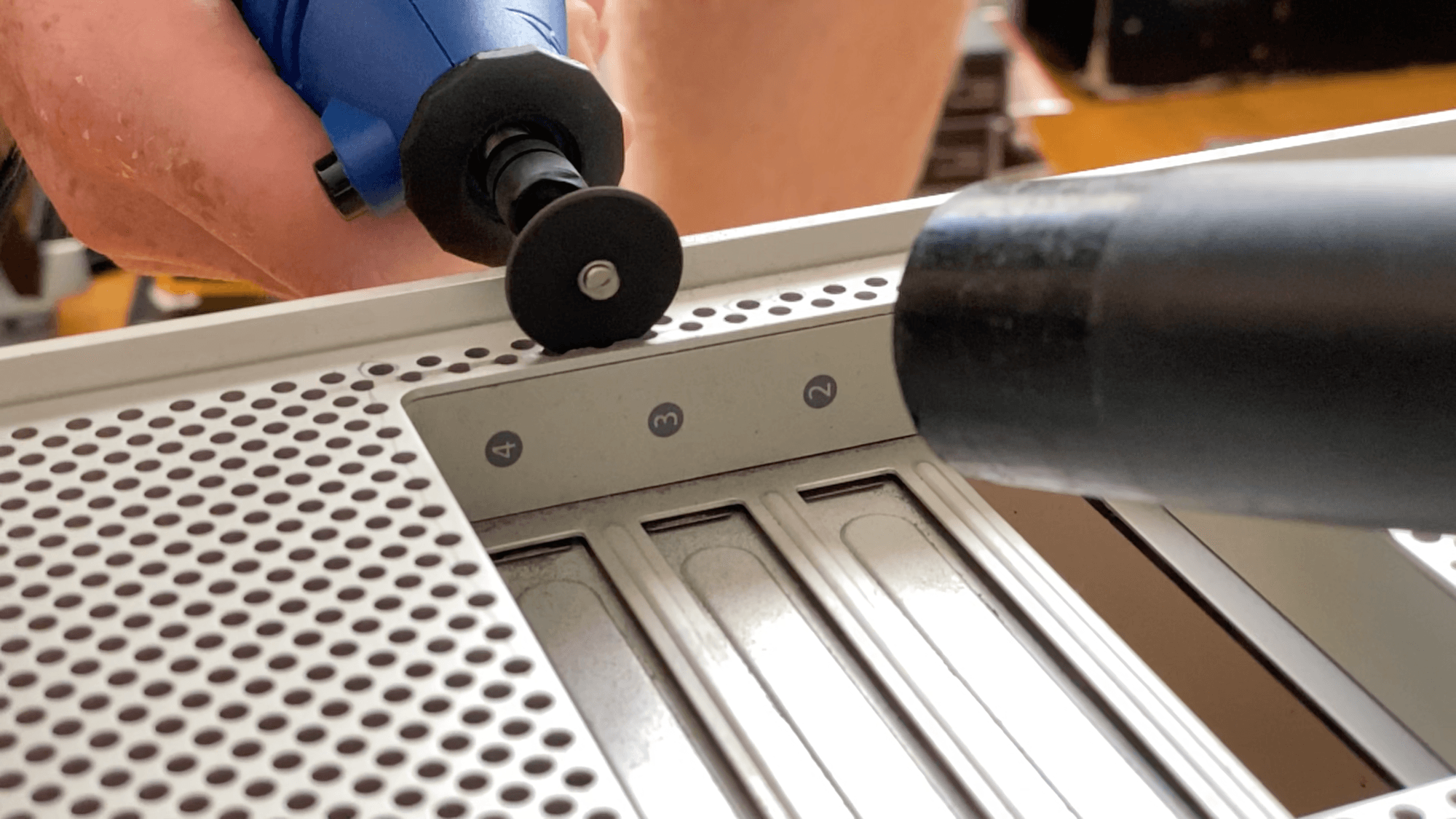 One of the machines we were modifying was a rarer "Late 2005" model. For reasons unknown, this specific model had a different type of front panel switch. While the other models have jumper cables that can be easily attached to modern motherboards, this one has to be soldered. Luckily Russell was up to the task.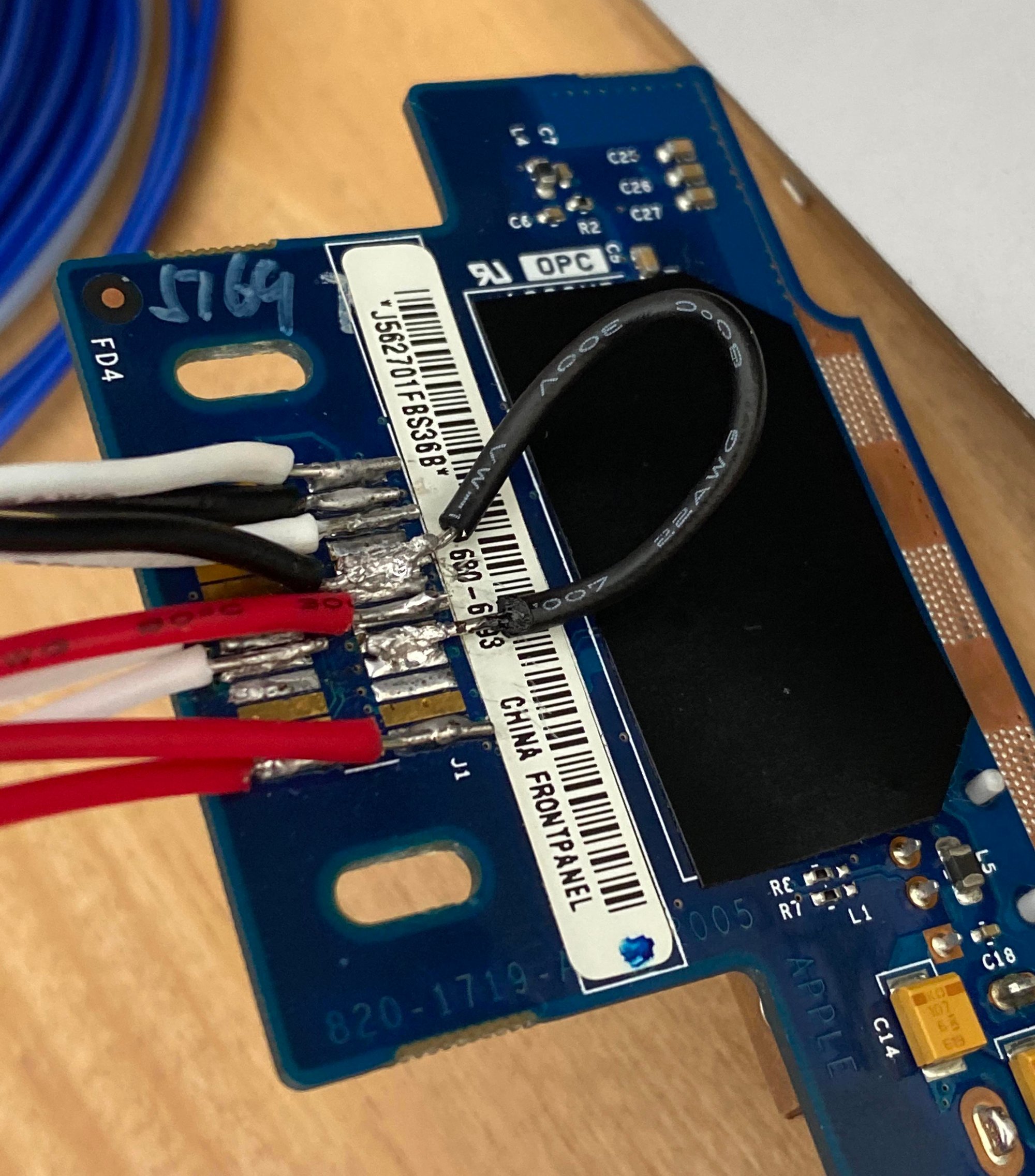 And here we have our modified cases, ready to begin accepting new parts. We wanted to keep the design of the cases as close to the originals as possible. So we decided from the beginning not to cut out the top shelf, and to retain both the optical drive bay and the two 3.5" drive bays.
Luckily these components were designed at a time when Apple actually allowed people to open their computers up and swap out parts, so they still work with today's optical drives and HDDs.
With our m.2 SSDs mounted on the motherboards themselves, both of the drive bays were free for expansion. We've each since added a 6TB HDD (not pictured).
For each case, we installed a new 24x Asus optical drive and mounted Noctua NF-A12x15 120mm fans on the front and back. We are also emulating the airflow design of the original case as much as possible, albeit a simplified version. Look closely and you'll see a Noctua R8 80mm fan mounted in the original G5 top shelf fan bracket.
With that done, the only thing left to do was build the machines.
Tools: Powermac G5s, new computer parts, dremel, soldering iron, allen and torx keys